Home :: India-Wildlife
India -Wildlife
The total area of India's confined wilderness is about 140,000sq km and constitutes 4 percent of the country's total land area. The stress has not only been on defensive wildlife in reserved forests, but in areas where man and animal carry on to live in harmony. The country's sheltered wilderness consists of 75 National Parks and 421 Sanctuaries, of which 19 falls under the purview of Project Tiger.
Its climatic and geographic variety makes it the home of over 350 mammals and 1,200 bird species, many of which are sole to the subcontinent. The land of the tiger and the elephant, the peacock and the rhinoceros, India's wildlife is a enjoyment for the nature lover. The wildlife parks and sanctuaries spread across the country offer a charming diversity of terrain, flora and fauna.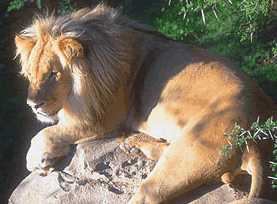 Lion
Corbett: The Wild Land Of Himalayas
Located in the Patlidun Valley at the bottom of the Himalayas in Uttar Pradesh, Corbett was established in 1936 in area of 520 sq. kms, as the Hailey National Park. India's first national park and the first sanctuary to come under plan Tiger; Corbett supports a diversity of vegetation making it the ideal habitat for the tiger and its prey. The well-known fauna: tiger, leopard, elephant, sloth bear, jungle cat, fishing cat, dhole, yellow-throated marten, Himalayan palm civet.
Reach -
By Air:
nearest airport is Delhi
By Rail:
nearest railhead is Ramnagar
By Road:
Ramnagar 5 kms. Delhi 275 kms.
Kanha: The Density Of Fauna
No other wildlife reserve in India offers the density of fauna, which is found at Kanha in the state of Madhya Pradesh often called Tiger Land. Kanha is situated in a horse – shoe shaped valley bound by two separate spurs, and supports 22 species of mammals in the central parkland and the next-door plateaus. Over the years, animals at Kanha have befall bolder and more confident, making the park outstanding for wildlife presentation and photography of tiger, leopard, barasingha, gaur, sambhar, chausingha, nilgai, barking deer, black buck, red jungle fowl.
Tiger
Reach -
By Air:
nearest airport is Nagpur.
By Rail:
nearest railhead is Jabalpur 160 kms.
By Road:
Mandla 65 kms. Nagpur 266 kms.
Bandhavgarh: Recalling The Past
Located in the Vindhya Hills, Bandhavgarh encompasses hills covered with a diverse forest of sal, dhobin and saga and large stretches of plain with bamboo groves. Dominated by a large fort said to have been built by Lord Rama, the hero of the Indian marathon Ramayana, Bandhavgarh is well known for its tigers, Jungle cat, and hyena.
Reach -
By Air:
nearest airport is Khajuraho.
By Rail:
nearest railhead is Umaria.
By Road:
Umaria 35 kms. Khajuraho 210 kms.
Sariska: The Home Of Tigers
The landscape of Sariska is conquered by sharp cliffs of hills and thin valleys of the Aravali. The forests are drying deciduous. There are ruins of medieval buildings within the sanctuary. The ruins of temples of Garh- Rajor of the 10th centuries are dotted in the jungle. A 17th century fortress on a sharp hilltop at Kankwari provides a panoramic sight of flying Egyptian vultures and eagles.
Deer
Reach -
By Air:
nearest airport is Jaipur.
By Rail:
nearest railhead is Alwar.
By Road:
Alwar 37 kms, Delhi 200 kms and Jaipur 107 kms.
Ranthambhor: Gateway To The Tigers Den
Experience of royal past and meet with majestic tiger. The great Fort Ranthambhor perched atop a creek 200 mts. high. Ranthambhor is the place where India's India's friendliest tigers are found. Assured of protection, they have distorted their nocturnal habits and are seen fairly often during the day. Sprawled over the Aravali and Vindhya mountain ranges. A system of three artificial lakes enhances loveliness of the park.
Reach -
By Air:
nearest airport is Jaipur 132 kms.
By Rail:
nearest railhead is Sawai Madhopur.
By Road:
nearest town is Sawai Madhopur 14 kms.
Keoladeo: Exotic Migratory of Birds Sanctuary
The first wildlife park on the Golden Triangle of sightseeing is Keoladeo, 55km from the Agra. The rich aquatic plant and animal life in the shallow, fresh-water marsh of Bharatpur has been attracting resident and traveling aquatic birds in thousands since times immemorial. Bharatpur has a recorded history of 100 years of duck shoots. There are around 353 species, belonging to 56 families. The Siberian Cranes visit no other waters in India, except for the marshes of Keoladeo. For watching number and variety of birds, the keoladeo is matchless.
Keoladeo National Park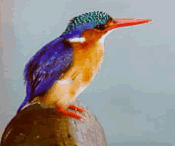 Bird
Reach -
By Air:
nearest airports are Agra & Jaipur.
By Rail:
nearest railhead is Bharatpur 3 kms.
By Road:
Agra 55kms, Delhi 212 kms.
Periyar: Most Picturesque Reserve
Periyar is one of India's most striking reserves. A dam constructed on the Periyar River led to the submersion of a big forest area and the formation of a 55 sq. kms lake, which certain the local wildlife a perennial source of water and led to its fast growth. The home of elephant, tiger, mouse deer, wild dog porcupine, and lion tailed macaque, flying squirrel.
Reach -
By Air:
nearest airport is Kochi
By Rail:
nearest railhead is Kottayam 114 kms.
By Road:
Kumily 4 kms. Kochi 200 kms.
Bandipur: Evergreen Open Forest
Part of the lushly forested Deccan Plateau, Bandipur in Karnataka, offers a rich and varied wildlife habitat. Covered with a mix of deciduous forests, evergreen forests and scrub well irrigated by the Moyar River, the prominent fauna: Asian elephant, wild pig, four-horned antelope, and black-naped hare. Bandipur has a fairly open forest floor, making it simple for visitors to spot wildlife.
Reach -
By Air:
Nearest airport is Bangalore.
By Rail:
nearest railhead is Nanjangud.
By Road:
Bangalore 60 kms, Gundulpet 20 kms, Nanjangud 55 kms.
Gir: The Wild Palace Of The King
The last existing population of the Asiatic lion can be seen at the Gir National park. Located in the Saurashtra peninsula in Gujarat .Gir is calm of terrain with steep rocky hills, deep ravines and infrequent stretches of grasslands. The park supports a mixed semi-arid deciduous forest, irrigated by many rivers.
Reach -
By Air:
nearest airport is Keshod.
By Rail:
nearest railhead is Sasan.
By Road:
Veraval 42 kms, Keshod 80 kms.
Manas: Blend Of Flora & Fauna
The Manas River divides the lush varied deciduous forests that run through India to Bhutan. On both sides, the habitat is keenly secluded as it houses no less than 20 species of birds and animals that are extremely endangered and listed in the IUCN Red Data Book 'Manas' is also the primary home of the rare golden langur, wild buffalo, hispid hare, pigmy hog, capped langur, India one-horned rhinoceros, water buffalo, elephant, tiger and hog deer.
Reach -
By Air:
By Air - nearest airport is Guwahati.
By Rail:
nearest railhead is Barpeta Road.
By Road:
nearest town is Barpeta Road 41 kms, Guwahati 186 kms.